From June 15 to June 21, 2020

499€ for the PlayStation 5
Amazon made a boo boo. Someone there prematurely placed the PlayStation 5 live for pre-orders on the France version of site's marketplace. According to the quickly removed listing the PlayStation 5 will cost 499€ and the PlayStation 5 Digital Edition will be slightly cheaper at 399€. Converting directly to USD that would be $558.41 and $446.50. Generally people are estimating the PlayStation 5 will cost either $500 and $550 and the PlayStation 5 Digital Edition will cost either $400 and $450. In a recent interview PlayStation CEO Jim Ryan said, "Conventional wisdom and history show that our business is one of the more recession-proof businesses, but I think this will sharpen our need to ensure that we focus on getting the value equation right. And I emphasize value as opposed to price." This made people nervous for high prices, yet the main price, if correct, is within the industry price estimate of between $500 and $600. [Forbes]
PlayStation 5 Price: 499€?

Digital Edition: 399€? Not bad ???? pic.twitter.com/JMA3Mj39U5

— Ben Geskin (@BenGeskin) June 16, 2020

The posting also potentially revealed the release date for the system: November 20th, 2020. This would be exactly a week ahead of Black Friday and depending on how well they are able to stock the system could result in shortages on America's biggest retail shopping day. Covid-19 has slowed the production of some products; hopefully Sony does not have any issues keeping the new system on shelves whenever the system does launch.
34 Seconds
The first teaser trailer for Zack Snyder's Justice League is up and it is short. The only "new" footage is a shot of Darkseid in a wall painting. This has inspired a tirade of articles about how in 2017 the world was too good and wholesome for such a terrible villain, but now we have sunk low enough to deserve a villain like him. Remember 2017? Back when masks were for Halloween and everyone was crying about Trump like he was the anti-Christ? How about 2009 when the same dance was happening over Obama? Or 2001 pre-9/11 when some people were saying that about Bush… All of this is to say any post election year about half the country is claiming Satan's Spawn has either risen to power or tightened the stranglehold and 2021 is bound to be a year when the world is prepared for Darkseid, just like 2017 was.

The project is estimated to balloon the length of the film to over 4 hours and will be broken into multiple parts. It would be most worthwhile if each part was about the length of this teaser trailer with week breaks between episodes the tension would be very high. Quibi would cry foul of course, because they have claimed paid short form production media as theirs and theirs alone.
151 Pokémon
The Pokémon Company announced and released a new phone app last week: Pokémon Smile. The new app is aimed at the parents of young children and entertains kids while they brush their teeth. The app gamifies the evening cleanliness routine by encouraging the children (or childlike adults) to free members of the original Pokémon roster from bacterial prisons. Freeing the Pocket Monsters allows you to capture them because well "Gotta Catch 'em All!" In order to free them though you will need to pay close attention as sometime the app will direct you to brush faster or slower and even in a specific spot. [Venture Beat]

This is not the first app to help kids brush their teeth and it wont be the last. That being said it is still a genius move by The Pokémon Company to get a whole new generation hooked on Pokémon at an even younger age! During the presentation where Pokémon Smile was announced, two other new games were also announced: Pokémon Café Mix for Mobile and New Pokémon Snap for the Nintendo Switch. Both of these projects might be more what the typical Pokémon crowd is looking for but Pokémon Smile is the future of the franchise. The Pokémon Company will be holding another news broadcast this upcoming Wednesday and all anyone can hope for is "Pokémon Fish Finder" to bring all the older men that have always been above Pocket Monsters into the fold.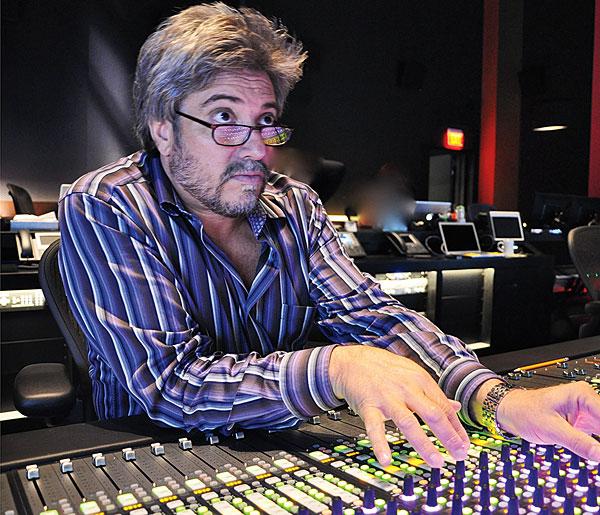 16 Nominations | Trivia Number
Have you ever heard of Greg P. Russell? Don't lie! You haven't most people haven't. Yet he holds a very unlucky record and one he should be known for so perhaps he can lose it. Greg has been nominated for more Academy Awards than anyone else who has never won the award. You read that right, this Sound Mixer has no golden men on his mantle. And with his category being collapsed in with Sound Editing his chances will be slimmer going forward. [statista]
And not all of the films he's been nominated for have been stinkers, most have been pretty good. Sure he got nominations for Pearl Harbor and 3 Transformer movies. But he was also nominated for his sound mixing expertise in films like The Mask of Zorro, the first 2 Raimi Spider-Man films, Salt, and most recently Skyfall. All of the franchises in this list had worse sequels, wait… he worked on some of those two. Perhaps he isn't the lynchpin. Either way give this man a statue.