Discover more from Nerd It Here First
A fan culture blog that's as obsessed with the things you love as you are.
1917 4K Review
Movie
It's a shame that film history may end up remembering 1917 as just an awards season statistic. A late entry in the 2019 race, it took home the top prizes at the Golden Globes, swept the BAFTAs, won both the PGA and DGA Awards, and despite garnering 10 nominations, ultimately lost the Academy Awards for Best Picture and Best Director to Parasite (a deserved winner in its own right). Nevertheless, the film remains a stunning feat of technical craftsmanship and sheer force-of-will captured on-screen. 1917 is based on memories and stories that director/co-writer/co-producer Sam Mendes (Oscar-winner for 1999's American Beauty) was told by his grandfather, who fought in The Great War. Featuring the most effective use of a (seemingly) one-shot take ever attempted, Mendes and cinematographer Roger Deakins (No Country for Old Men, Skyfall, Blade Runner 2049) immerse viewers in the horrors of trench warfare. We follow two British soldiers who are commanded to deliver a letter across No Man's Land in broad daylight to prevent a battalion of 1,600 soldiers from walking into a German ambush. It's easy to lament that 1917 isn't bringing anything new to the table in terms of story or themes. But through its unique form, the film is able to provide a perspective on World War I and the young men who were sacrificed in its name that few (if any) films before it have ever been able to. While the movie isn't flawless -- for example, a brief stop in a French town provides a reprieve from the tension, but offers little in the way of narrative, character, or thematic development, along with unnecessary subtitles that temporarily break the film's you-are-there verisimilitude -- these small issues fade away against 1917's numerous positives. To say anything more would ruin the film's visceral surprises. 1917 is a remarkable accomplishment of both technical prowess and storytelling economy, and one of the finest war films ever made. It deserves to stand proudly alongside the likes of All Quiet on the Western Front, Lawrence of Arabia, Saving Private Ryan, and The Hurt Locker. And hopefully, film historians will remember the film for what it is, not for the trophies it ultimately didn't take home.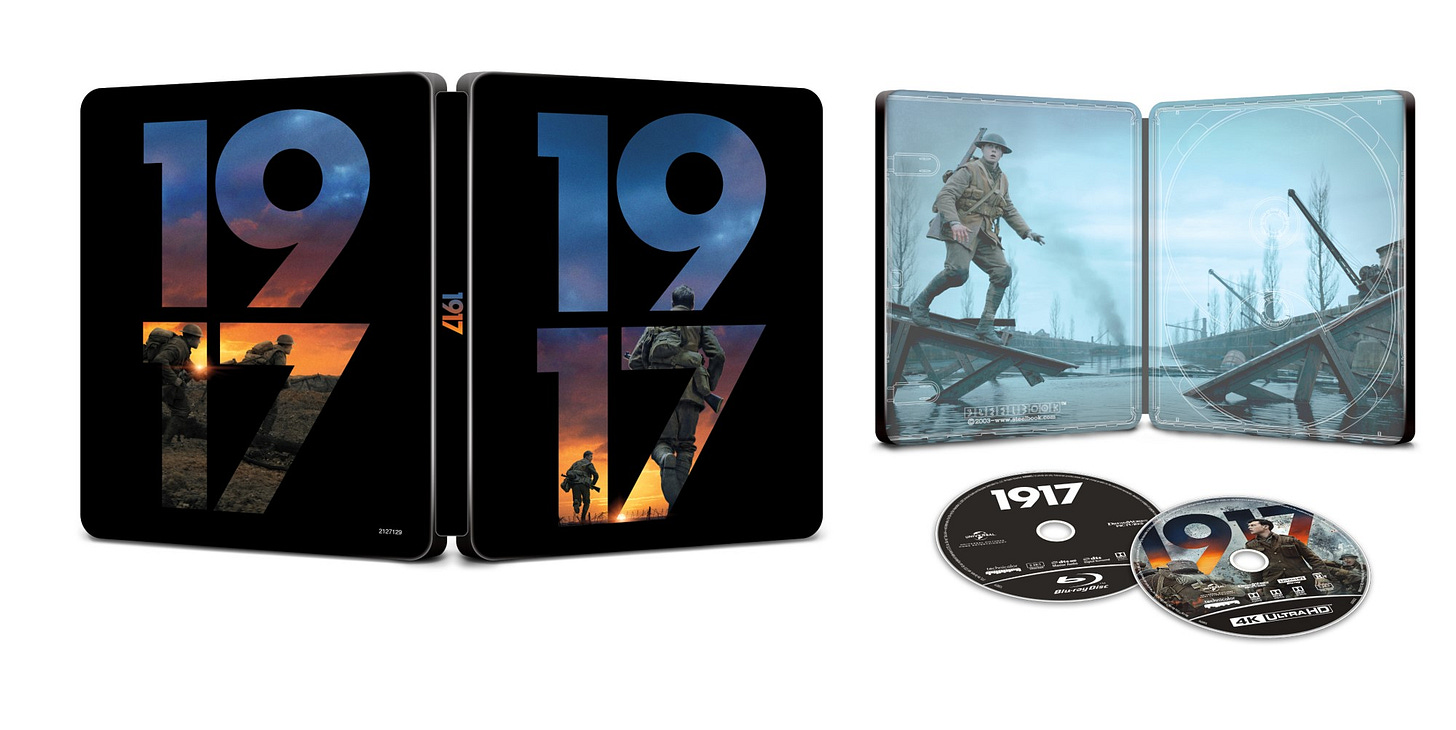 Packaging
1917 comes via Universal Home Entertainment in a number of options: a DVD, a Blu-ray/DVD/Digital Copy combo pack, a 4K Ultra HD/Blu-ray/Digital Copy combo pack, and an 4K/Blu-ray/Digital Copy Steelbook that's exclusively available at Best Buy retailers. For this review, we're taking a look at the Steelbook, which is gorgeous in its simplicity. The front and back show our two heroes traversing a harsh-but-beautiful terrain within the numbers "1917." The numbers are debossed on the front panel. The inner art features Pvt. Schofield (William MacKay) in one of the film's set pieces, attempting to navigate a bridge that's been partially sunk.
Video
The film won Academy Awards for its Visual Effects and Cinematography, and both shine brightly on this incredible UHD disc. Deakins' photography favors warm, earthy tones and deep contrast, which are faithfully replicated by the transfer and further enhanced by the High Dynamic Range (HDR) grading. (Viewed in HDR10; the transfer is also graded for Dolby Vision and HDR10+.) The nature of the camerawork can sometimes cause rather noticeable judder, especially during a sequence at a French farmhouse, but this was present in theaters, too. The HDR image is slightly darker than its SDR counterpart, giving the image a heavier appearance. Grey clouds hang low over the European countryside, flares stand out, fires burn bright, and sparks from ricocheting bullets pierce dense blacks. Finished in 4K, the inherent sharpness brings production design, costumes, and hair and make-up into focus. There is no banding, artifacting, or anything untoward. The film has been given a 100GB disc. If this isn't the best UHD currently on the market, it's certainly in the conversation. This is absolute demo material from a visual standpoint. Fans of 1917 and serious home theater enthusiasts should have this in their library. NOTE: the UHD displays the movie in its 2.39:1 aspect ratio. It does NOT include the 1.90:1 aspect ratio that was shown exclusively in IMAX venues.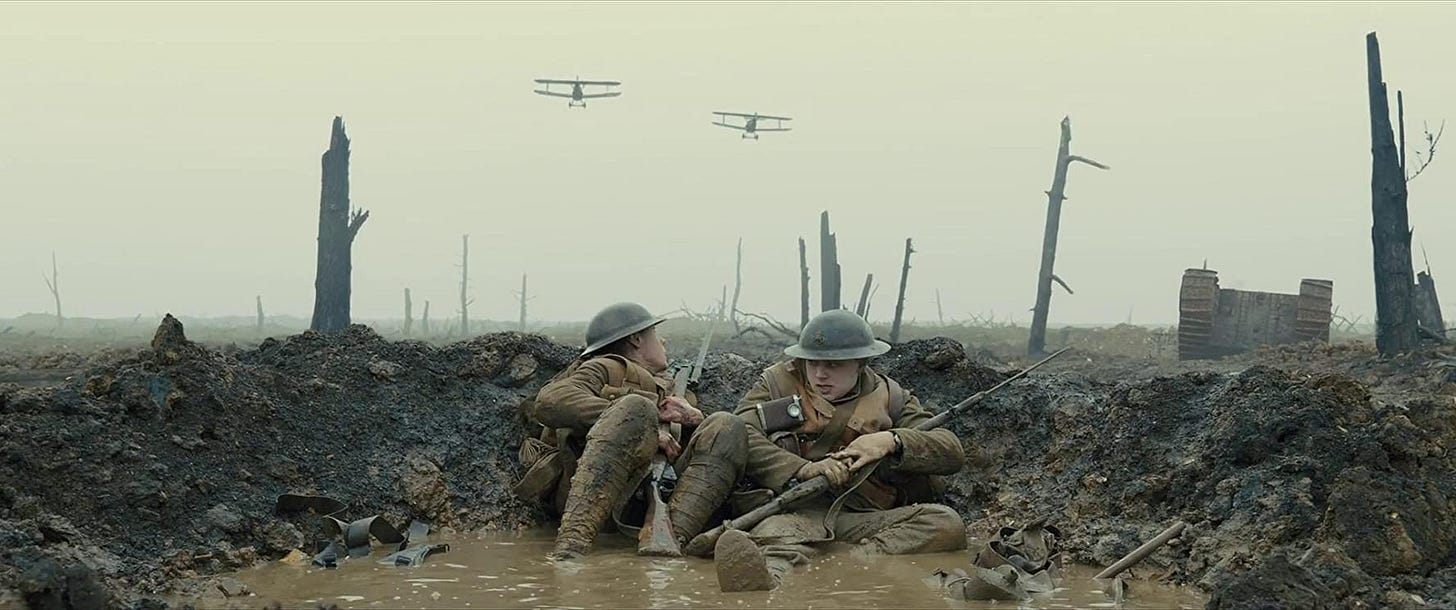 Audio
1917 also won the Academy Award for Best Sound Mixing, and the Dolby Atmos mix featured on this disc is wonderful. Dialogue, gunfire, plane engines, rushing water, and explosions envelope the sound field, supplementing the visuals to provide further immersion. I felt that LFE could've been a little stronger at times, but that's a negligible complaint. This is still a fantastic track that will surely give most sound systems a thorough workout.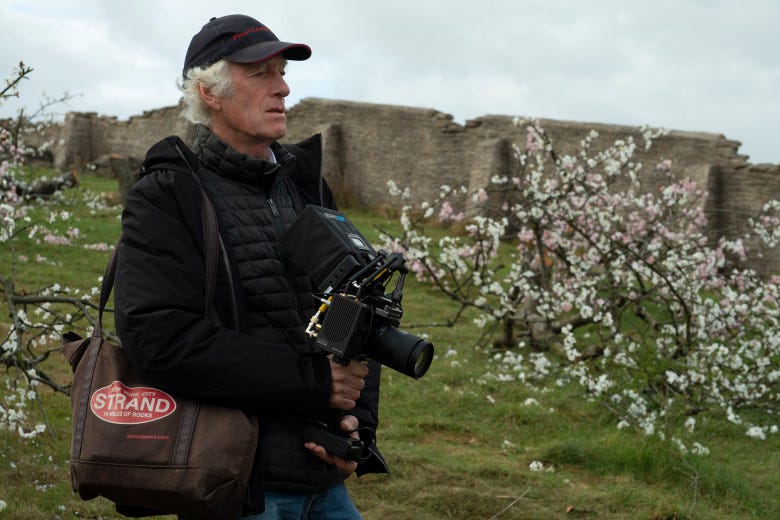 Extras
Five featurettes, which total less than 40 minutes, provide an adequate look at the making of 1917. The most in-depth is "Allied Forces: The Making of 1917," a 12-minute look at the staggering amount of planning and choreography required to pull off the movie's central conceit. Ten minutes are devoted to Dennis Gassner's breathtaking production design in "Recreating History." The remaining featurettes -- "The Weight of the World: Sam Mendes," "In The Trenches," and "The Score of 1917" -- focus on the Mendes' personal attachment to the story, the two lead actors, and Thomas Newman's Oscar-nominated music, respectively. The highlight of the bonus content is the two audio commentaries: one by Sam Mendes, and another by Roger Deakins. These are incredible commentaries, full of information on just about every facet of filmmaking. These should be required listening for anyone with a serious interest in film production and appreciation. NOTE: all of the supplements are available on the UHD disc, the Blu-ray disc, and via the digital copy, which redeems in 4K via MoviesAnywhere.
Summary
1917 is an incredible movie, and it gets an equally incredible home video release. The Best Buy-exclusive Steelbook packaging is lovely, the video and audio of the 4K UHD disc are nigh-faultless, and the supplemental package is fascinatingly thorough. Even if you opt for the widely available, non-Steelbook 4K UHD, this is an incredible release that earns my highest recommendation.