Discover more from Nerd It Here First
A fan culture blog that's as obsessed with the things you love as you are.
Early Oscars Predictions by the Numbers
This week, the Academy of Motion Picture Arts and Sciences announced the nominees for the 91st Oscars. And did they ever! This year's Academy Award nominations brought more surprises than any ceremony in recent memory. But our Oscars model was prepared to turn some of those shocks into sure things. We've run the numbers on six of the biggest categories at this year's ceremony.
The model looks at the results of other major awards ceremonies and uses those results as data. Nominees earn a small number of points if it is nominated for an award, and then more if it wins the award. The more often the winner of an award goes on to win at the Oscars, the more points that award is worth. For example, the DGA and PGA awards oftentimes award movies which win Oscars, so those awards are worth more points than the Golden Globe or the Satellite Award.
In the images below, we've used yellow to show wins and green to show nominations. We've also drawn a line to show the minimum number of points past Oscar winners have had at this point in the race. While nothing is definite, we hope this can give us some context for how to think about the race. As more data comes in between now and the Oscars, we will continue to update the model and post what we find. Now let's get to the movies!
Best Picture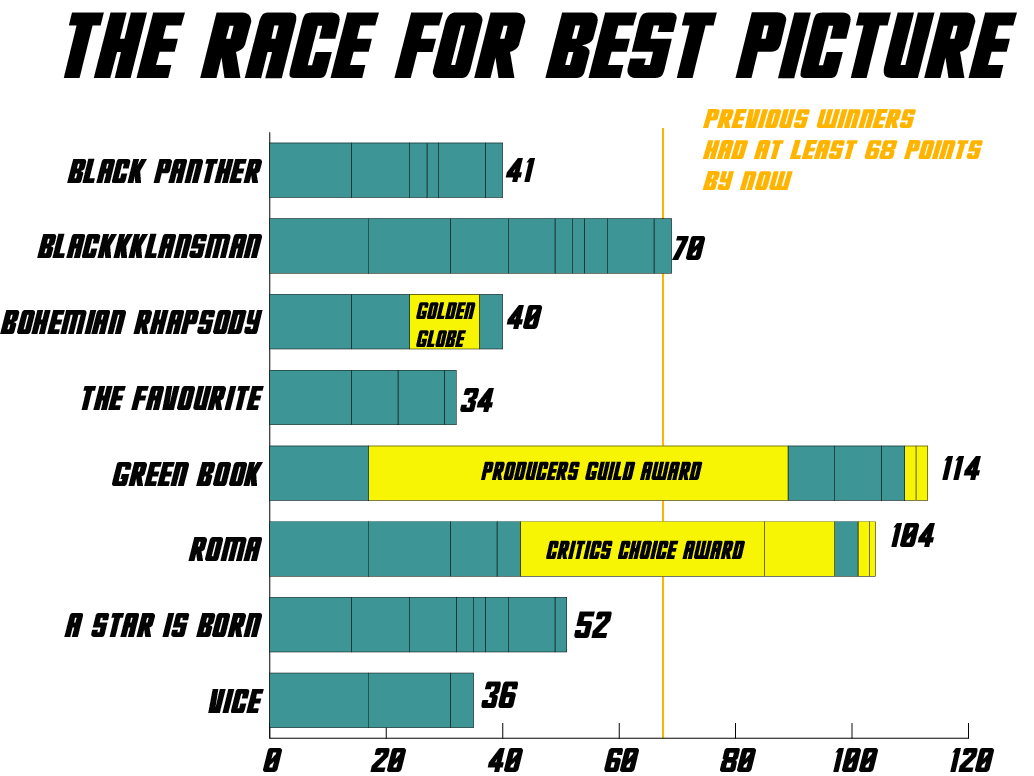 Judging by the numbers, the Best Picture competition is a three-way race. While that may seem like a tight group out of a group of eight, it's a more wide-open race than it's seemed recently. After the Golden Globes and the PGA awards, Green Book has seemed like the odds on favorite. But Roma and BlacKkKlansman are not out of the race yet. And the DGA and SAG awards are still to come, ceremonies which will probably shake this race up even more.
The other factor to remember when it comes to Best Picture is the preferential ballot. The voting for Best Picture is unlike any other voting that takes place at the Oscars. Voters will rank all eight movies in order of their preference. If no nominee has more than half the votes, whichever received the fewest votes will be eliminated. Those ballots are then given to whichever film they list as their second pick. So the question of which film is least popular is almost as important as which film is the most popular.
The bottom line? It's too early to predict any winner in Best Picture.
Best Director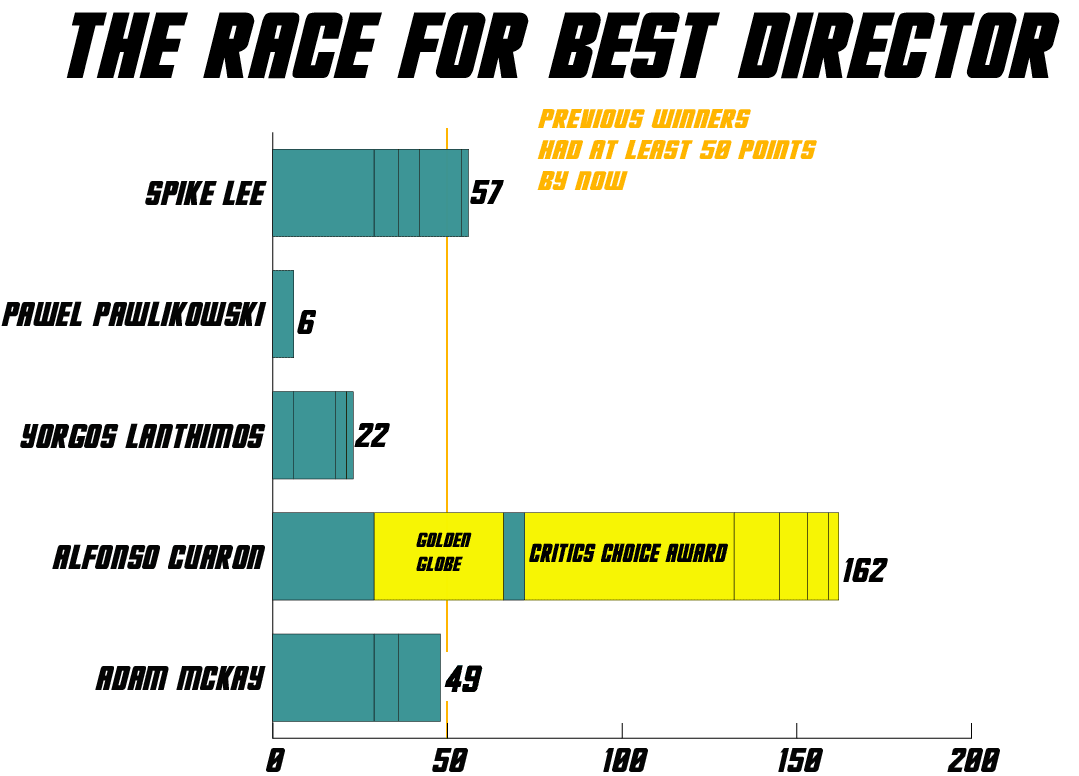 If Best Picture is too busy for us to make any solid predictions, Best Director is just about as close as we can get to a sure thing. Alfonso Cuarón won the Best Director prize for Gravity in 2014. And he's poised to do it again with Roma this year. If we were going to bet it all on one race, we'd bet that Cuarón will make history by earning Netflix it's first ever award at this year's Oscars.
The one factor that could spoil Cuarón and Netflix's plan? Spike Lee. This is the famed director's first ever nomination in the category. And he's not mathematically out of the mix yet. It would not be insane for him to make a late surge in the balloting. The Director's Guild award is awarded February 2nd. If either of these directors takes home the prize that night, they'll almost certainly go on to win at the Oscars.
The Oscar is Cuarón's to lose. But Spike Lee might have what it takes.
Best Actor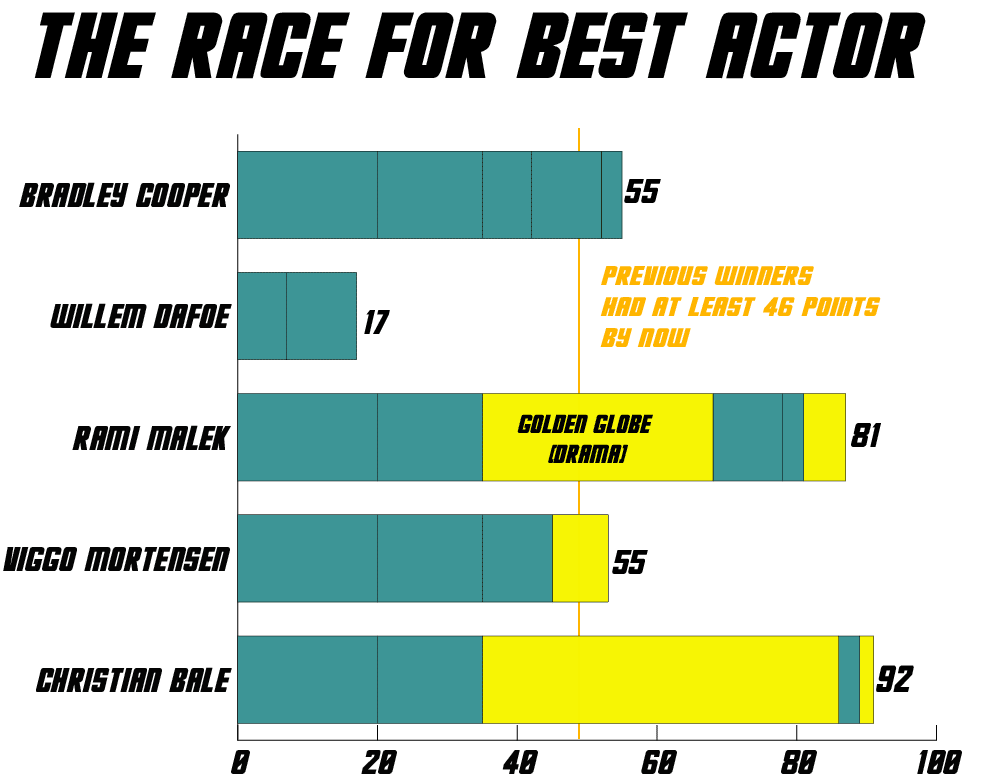 I honestly don't know what to say about the Best Actor category. Christian Bale is the obvious favorite. That much is a given. But, aside from Willem Dafoe, it could be anybody's race. Rami Malek won at the Golden Globes and seems to be a favorite. Vigo Mortensen is an Oscar winner for Return of the King and was nominated recently for Captain Fantastic, so he could be an easy vote for Oscars voters.
But the most likely spoiler for Bale is probably Bradley Cooper. A Star is Born was nominated for Best Picture, but Cooper didn't get recognized in the Best Director category. A vote for him here may be seen as a vote for the film as well as the man.
Christian Bale is far and away the favorite here. But there's room for interesting things to develop at the SAG awards.
Best Actress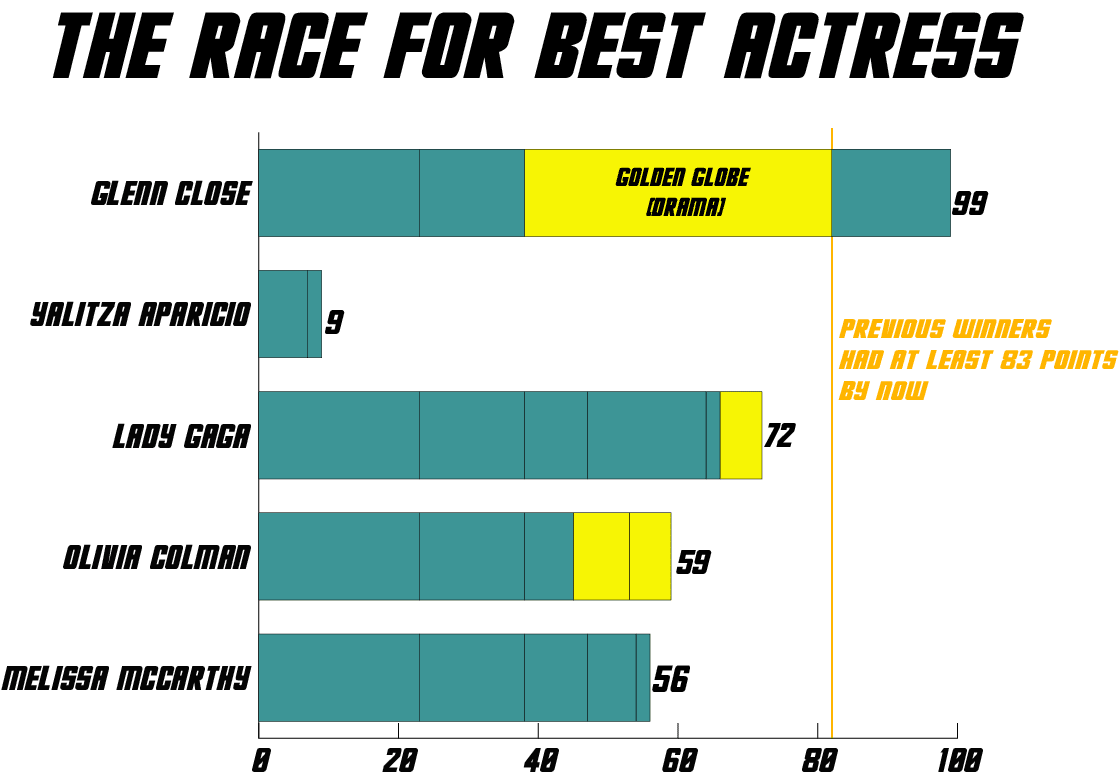 The award for Best Actress is probably the most interesting category in the competition right now. Lady Gaga was the early favorite for A Star is Born. But Glenn Close's win at The Golden Globes, and her acceptance speech there specifically, started a train of momentum that seemed hard to stop.
This race only got more interesting when Close and Gaga tied at the Critics Choice Awards. Ties like this are not impossible, but they are certainly uncommon. And seeing it in such a tight race made this one all the more fun to watch. Both performances are stellar, and whichever is recognized at the SAG awards will likely come out on top.
However, looking at the model, Glenn Close has this award locked up.
Best Supporting Actor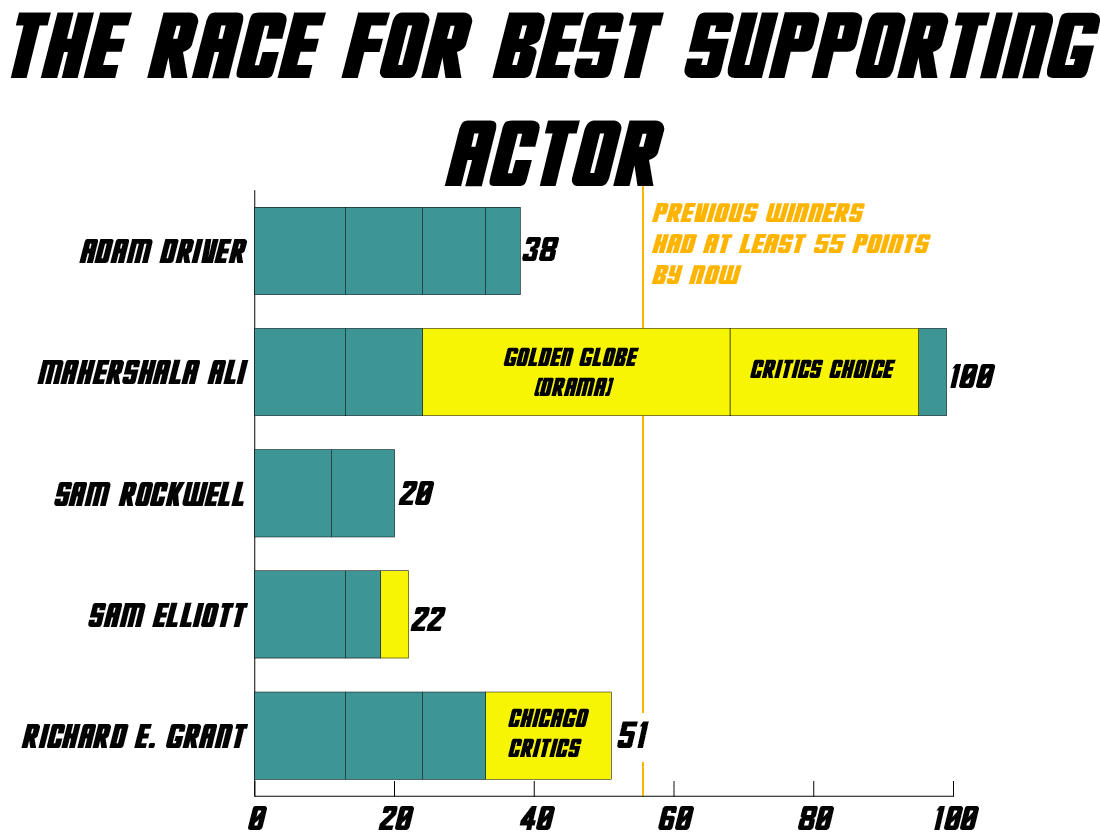 This award is just about as boring at this year is going to get. Mahershala Ali will win the award for Best Supporting Actor for his role in Green Book. Early favorites Sam Elliott and Richard E. Grant have faded while Ali has only built up momentum as the ceremony has drawn closer. This will be Ali's second win for Best Supporting Actor. He also won for his role in Moonlight.
Best Supporting Actress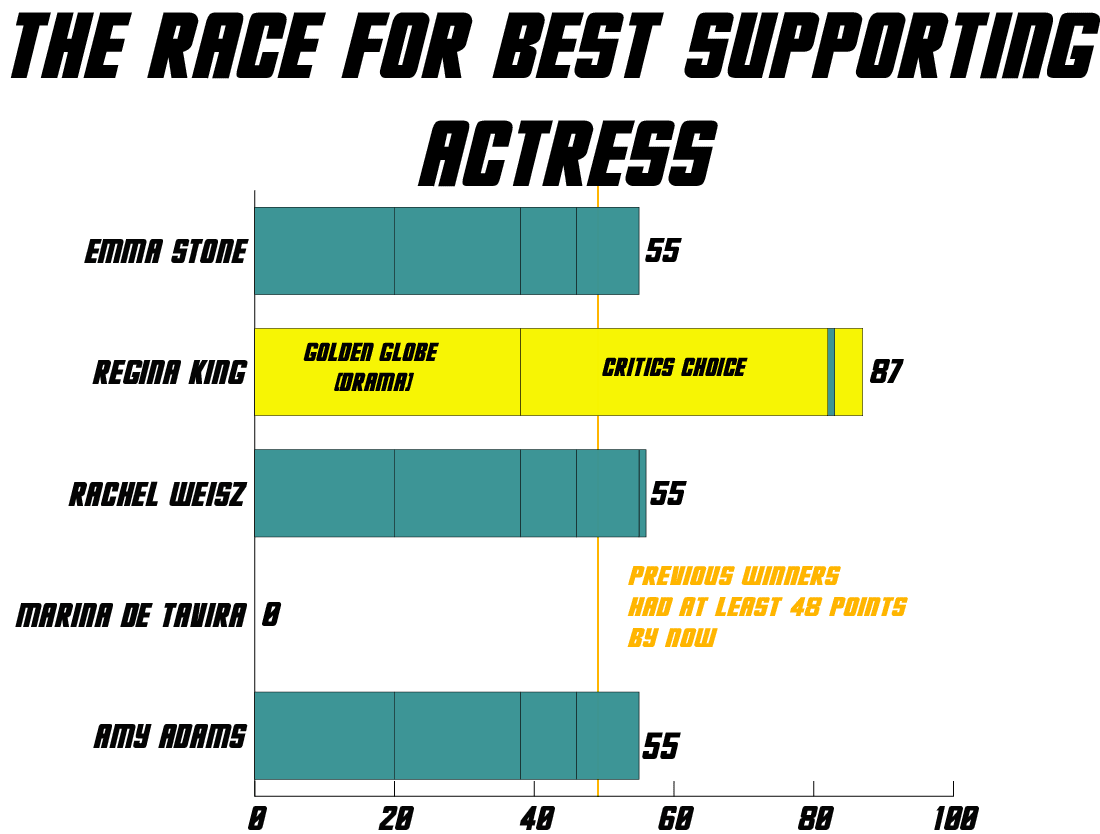 This race looks a lot closer than it is. Four of the nominees have been consistently nominated in almost all of the main precursor awards. Due to its three lead actresses (Rachel Weisz, Emma Stone, and Olivia Colman) The Favourite has confused the issue even more. And while it would be fantastic if Amy Adams finally won her much deserved Oscar, Regina King is the early favorite, having won every precursor award she could.
---
But what do you think? Do you have a model you're using to predict the outcome at this year's Oscars? Or maybe you've got a gut feeling that will prove our model wrong? Let us know on Twitter or Facebook. And make sure you follow us to see how our model evolves as more evidence shakes out on the approach to the Oscars.