Discover more from Nerd It Here First
A fan culture blog that's as obsessed with the things you love as you are.
'Guava Island' Got Its Day | Review
Donald Glover's most successful project isn't what you think it is. It's not Atlanta, the FX series for which he won an Emmy. It's not any of the Childish Gambino albums, for which he's received multiple Grammys. It isn't playing Lando in Solo, or Aaron Davis in Spider-Man: Homecoming. It's not even Guava Island. Donald Glover's most successful project is Donald Glover.
In May of 2018, the internet lost its collective mind when Cardi B tweeted about not knowing Donald Glover and Childish Gambino were one and the same. But honestly, that's kind of the point. Glover began performing under the name Childish Gambino in 2009, while he was writing 30 Rock, producing Mystery Team, and acting on "Community." At that point in his career, it was easier for the public to accept Childish Gambino as another character Glover played, rather than a serious musical endeavor.
Glover has steered into the skid of public doubt. The IAMDONALD tour in 2011 was billed as a double act featuring Donald Glover opening for Childish Gambino. There was even a prerecorded bit in which Future Donald came back in time to warn against Donald performing as Childish. Spoiler: He had to perform because the consequences were far worse if he didn't. In 2018, Glover went so far as to playfully show off the different sides to his characters, showing the difference between Childish Gambino's face and Donald Glover's face on "The Late Show."
Contrast all of this self-bifurcation with the actual content of his music, which has always been deeply personal. There's charming melancholia to all of Gambino's songs. On 2010's Culdesac he sings about fears that he may be "the black Heath Ledger." On his first studio album with Glassnote, "Camp," he performs an eight-minute spoken word piece about falling in love with a girl at sleep away camp and finding out she didn't love him back. These aren't the experiences of some fictional character. They're fears and desires that belong to Donald Glover. The genuine, raw emotion that he separates himself from through the use of a stage name.
But while Gambino is a juxtaposition of the boisterous audacity of hip-hop culture and Glover's own fear and insecurity, Donald Glover has his own mythos. Through all of his projects, Glover has crafted a narrative around his identity. Whether this is genuine or another character, there's an authenticity there that fans can relate to. He is creatively curious. He's charismatic. He's driven. He will eventually EGOT. All of the professional work he's done in his career - but especially his own projects - has served to elevate this larger narrative around who Donald Glover is.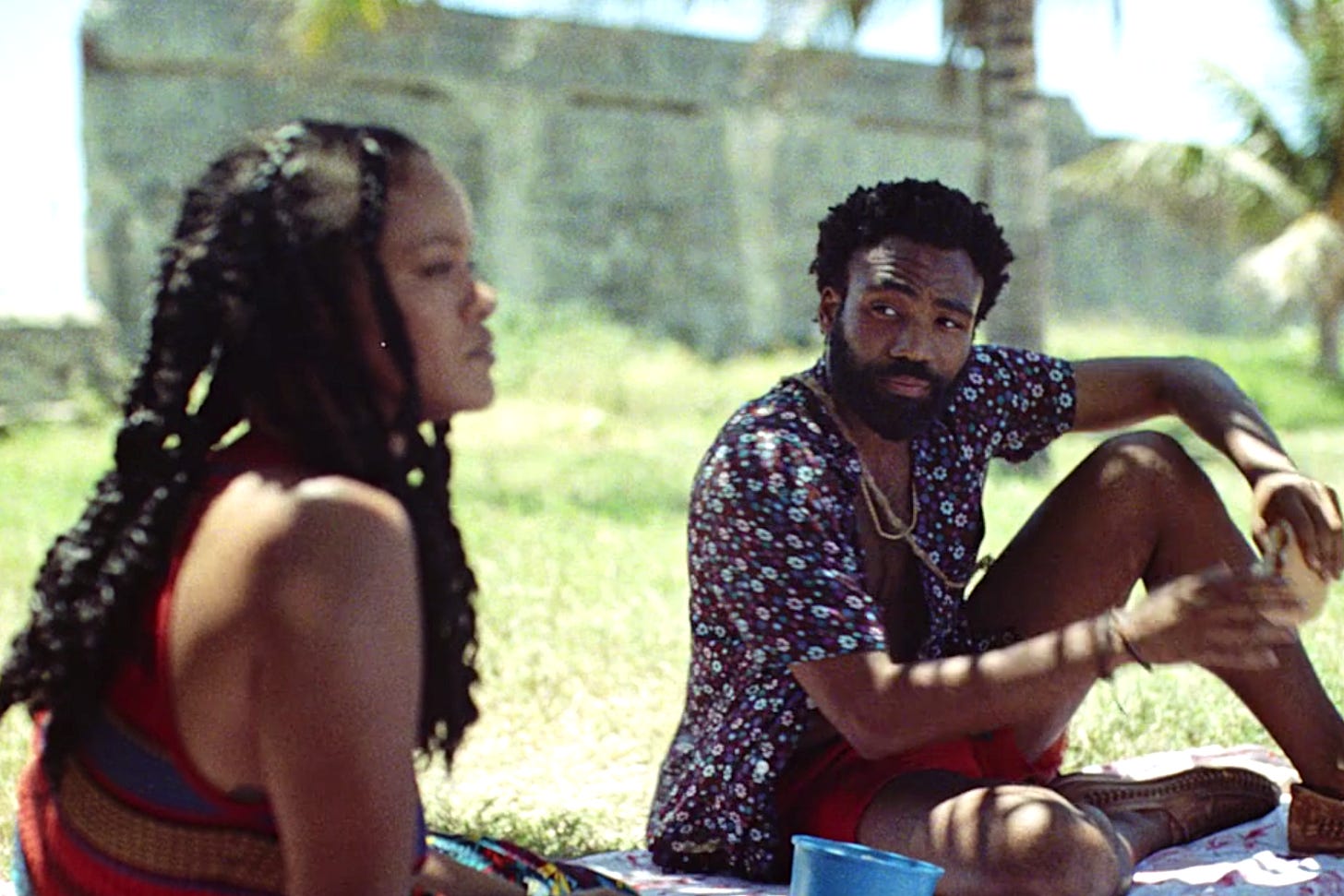 In Guava Island, Donald, along with his brother Stephen Glover, creates another step in that narrative. Directed by Hiro Murai ("Atlanta," "Clapping For The Wrong Reasons," "This is America") Guava Island is a fable about the danger of greed. Glover plays Deni Maroon, a musician on the island who wants to put on a music festival and give everyone on the island a day off of work. He is opposed in this effort by Red, a shady island tycoon who is more interested in profits than his workers' well-being. Red is insistent that his workers cannot take Sunday off. He tries to bribe, and then threaten, Deni into canceling his show. But the show must go on.
The film features a number of Gambino's latest songs, including This is America, Summertime Magic, and Saturday. It's the first time that Glover's writing and acting career has overlapped with Gambino's music career. In a lot of ways, that crossover feels like it's signaling the end of something. Glover has previously stated that the next Childish Gambino album will be his last. Whether that means that Glover is done with music or done with Gambino remains to be seen. But Guava Island certainly feels like a step toward a grand unified Glover.
If he is done with music, then that is his choice as a performer. There is certainly a take on Guava Island that suggests he is ready to put his musical career behind him. But it seems more likely that he is more comfortable with his own fame and success than he ever has been before.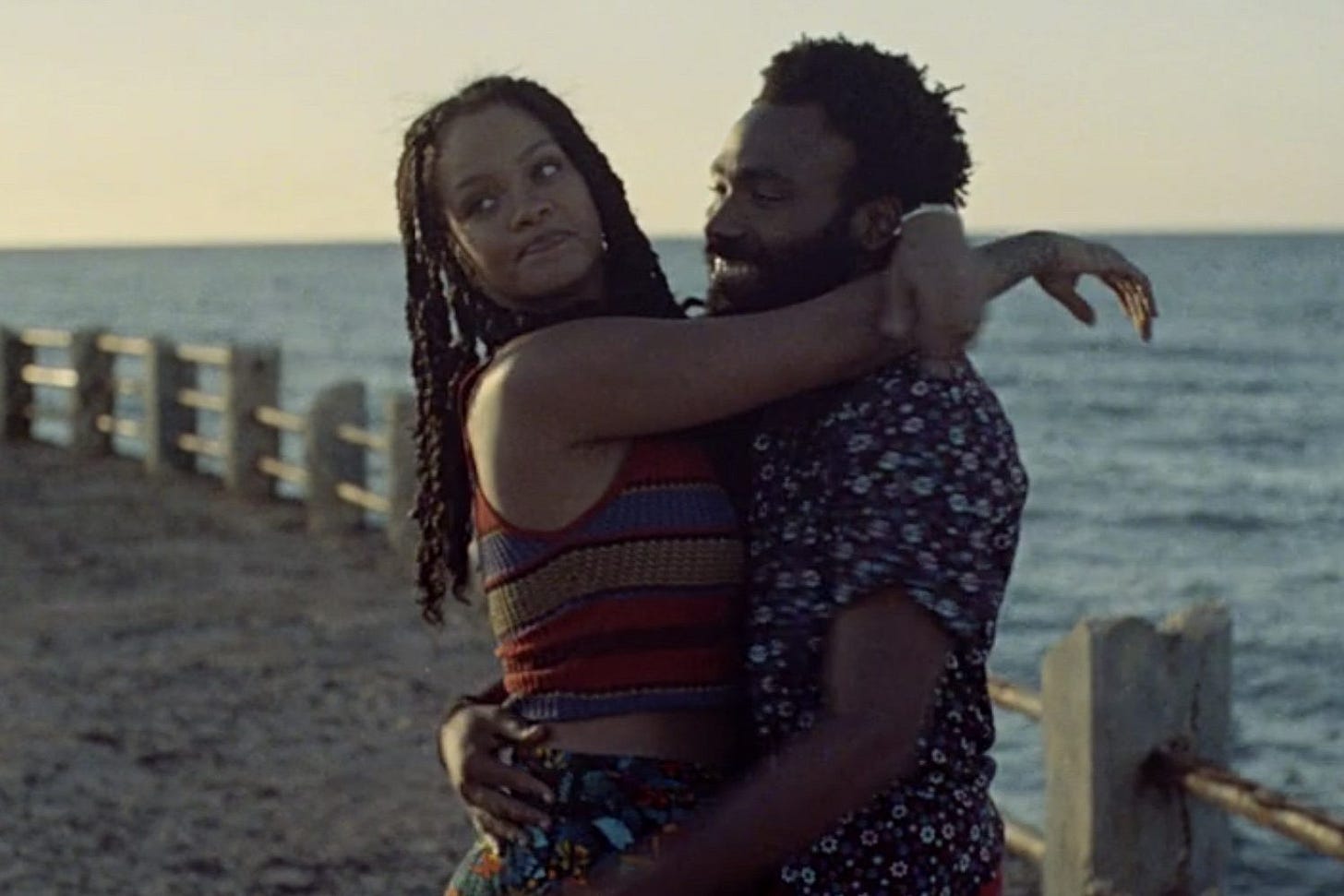 In the open letter Glover posted on Instagram, he said he was scared he'll never outgrow Bro Rape. There feels like there's a lot of truth in that fear. Glover's practice of deleting all of his social media posts in between projects certainly suggests someone who is more comfortable with the future than the past. In that same letter, he talked about how he was scared that people were disappointed in him. That he was a failure. That people hate him. That he's sad.
Guava Island feels like it is made by a creator that isn't sad anymore. It's a celebration of life and music. It's the first time in recent memory that we've had a Donald Glover who isn't taking himself so seriously. And it seems like a Donald Glover who is happy. At a point in his career when he's poised to become the biggest name in entertainment, it seems like Donald Glover may finally be as excited about his career as everyone else is.
I like that story.
---
Guava Island is available to stream on Amazon Prime.