Discover more from Nerd It Here First
A fan culture blog that's as obsessed with the things you love as you are.
What to watch on Quibi, the new mobile streaming service | Quarantine Guide
This week saw the launch of Quibi, a new mobile entertainment platform designed to deliver entertainment content in "quick bites." Featuring everything from dramas to news, Quibi is available for a 90-day free trial. Backed by named like Jeffrey Katzenberg, Quibi offers episodes that go no longer than 10 minutes. The company reportedly has a billion dollars worth of buy-in from the major Hollywood studios, including Warner Bros. and Disney. Despite the Coronavirus shutdown, the company alleges that they have enough new content to last them til Thanksgiving. Those who subscribe for the free trial have two options once it expires: a $5 monthly subscription that includes ads, and an $8 monthly subscription without ads. The app was reportedly downloaded 300,000 times on launch day, the second-largest such day for any streaming app behind last year's launch of Disney+. Bloomberg estimates that, with episodes costing as much as $125,000, the service will need around 12 million users to break even. And during these quarantine times, we at Nerd it Here First know people are looking for content to pass the time. Thankfully, Quibi isn't just a gimmick - there's some legitimately good stuff here. And we've curated what we think are the four shows you should absolutely make time for.
Dishmantled
Dishmantled is basically the perfect Quibi show. It has everything that a platform based on micro-episodes could hope for. It's host, Titus Burgess, and rotating panel of celebrity chefs provide star power. Each episode's stand-alone nature and competitive edge provide an easy hook. And the mystery element of "What food just got blasted out of those cannons" is so delicious that you'll have to see each one through to the end. Wait — did I not mention the food cannons? Let me start over.
Dishmantled is a cooking show where two chefs compete to see who can best recreate the dish of the week. The catch? They never get to see what that dish actually is. Instead, they stand blindfolded in a clear plastic tube while six cannons shoot the food at them in super slow motion. They then have thirty minutes to identify what they're supposed to be cooking, and recreate it for the judges. The two contestants rarely agree on what the recipe could be, which gives the competition a dramatic range. Whoever guesses the most correct ingredients wins $5,000. And the whole thing is over is less than seven minutes. It's wonderful.
- Ryley Trahan
Most Dangerous Game
People may be worn out on Christoph Waltz's shtick, but I ain't one of them. The two-time Academy Award winner stars alongside Liam Hemsworth in this thriller. Hemsworth plays Dodge Maynard, who's diagnosed with a life-threatening illness. Determined to leave his pregnant wife with enough money to get by, he accepts an offer from businessman Miles Sellers (Waltz), in which he must play - and survive - a game in order to collect its prize. Sort of a cross between "Breaking Bad" and David Fincher's The Game, "Most Dangerous Game" won't set any new standards in the thriller genre (and isn't very airtight, either). That said, with such short chapters and high production values, it's hard to complain too much. It's the type of premise that does best when you know as little as possible beforehand, so I'll leave it at that. - Deepak Chitnis
Murder House Flip
Murder House Flip is what would happen if a failed SNL sketch got picked up for a full season on HGTV. You already know everything you need to know about the show from the title. But just in case you don't believe your own senses, let's walk through the basic premise of a show that is genuinely perplexing.
Murder House Flip is based on two eternal truths of unscripted television. First, people love true crime. Second, people like home renovation. Each three-part series of Murder Flip House brings real estate professional Joelle and Mikel into a house with a dark past. The duo has four days to de-creep-ify the home for its owners. The best part? Joelle and Mikel have no patience for any of this murder stuff. They're deeply spooked out the entire time. And not even in a performative way. Just in a way a normal interior designer would be if they found out that they were standing on floorboards that had soaked up dozens of gallons of blood. Apparently the recipe for great unscripted TV is one part creepy, one part quaint.
- Ryley Trahan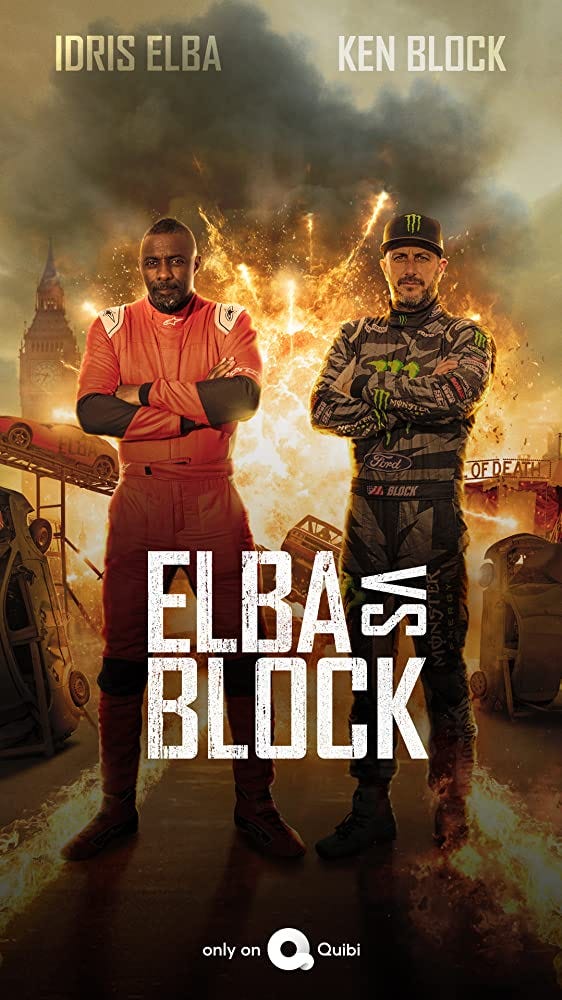 Elba vs. Block
Idris Elba is a boss - this much we can all agree on (and if you can't, you're objectively wrong). Cars and stunts are also awesome. Take those elements and combine them, and you've got "Elba vs. Block," which sees the venerable actor and Ken Block indulge their love of automobiles with some thrilling stunts and derring-do. Elba's clearly having the time of his life, and watching him engage in some genuinely dangerous work is thrilling to watch. It's fast, furious, fun, and features one of the best actors currently in the game. What's not to like? - Deepak Chitnis